Accommodation Information
The majority of our cattery suites are designed for a maximum of two cats sharing; however our additional 8 family suites, can accommodate up to 4 cats. Cats sharing rooms must of course be from the same home!
Each of our full height rooms are complete with a heated sleeping area, freshly laundered beds, as well as igloos. The adjoining spacious covered exercise area, contains a big natural scratching post, a variety of toys, 'snoozing' shelves as well as additional baskets or chairs to ensure that every guest has plenty of choice as to where they relax! Rooms can be adapted in terms of layout and range of activities provided to suit guests of all ages.
Guests are also very welcome to bring belongings from home to help reassure them. The rural views from each of the rooms provide additional interest for our visitors. Our Perspex screens on the exterior of the cattery provide weather protection, however they can be removed during the day when weather permits.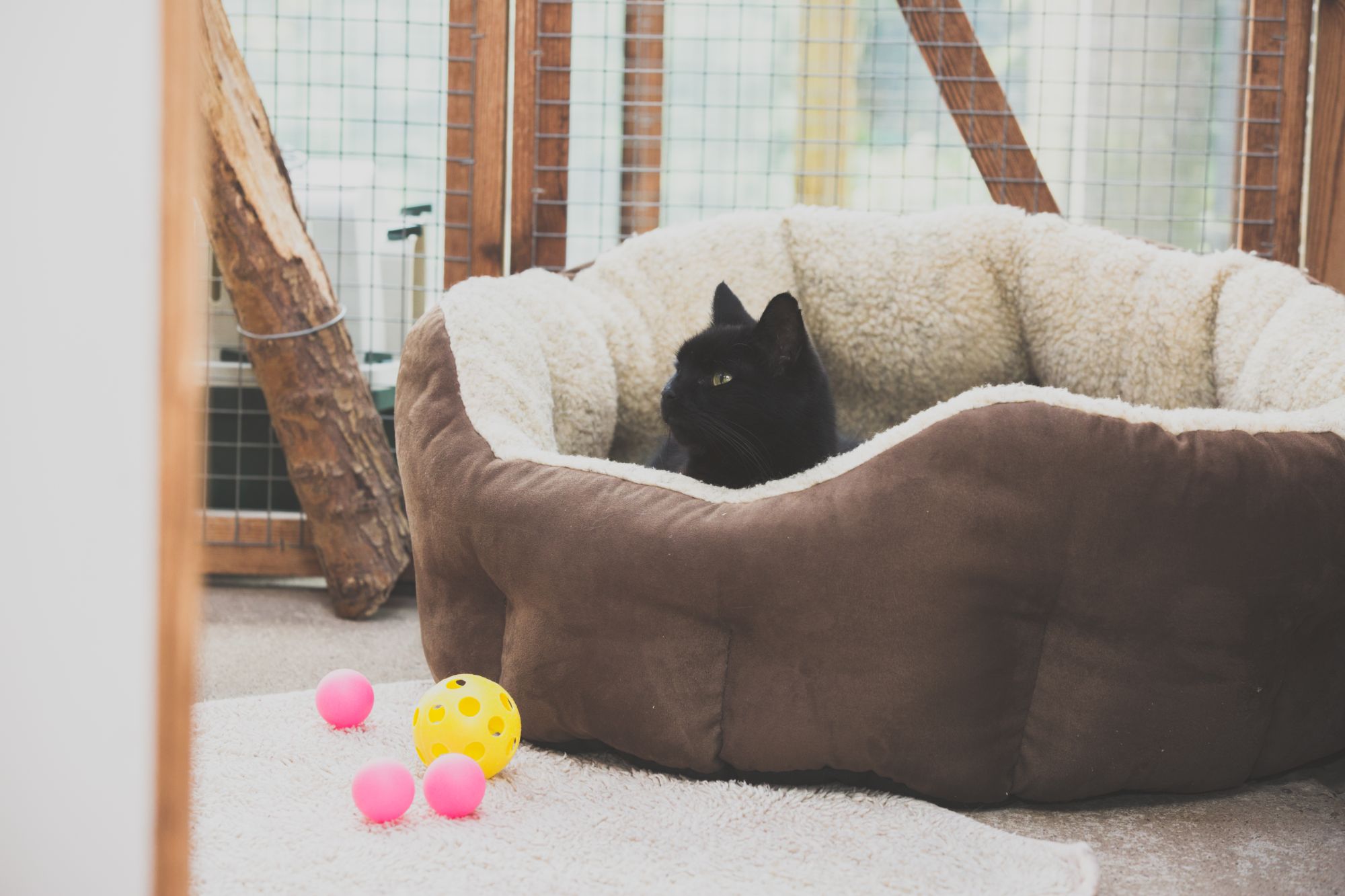 We serve each guests meal on a tray using bowls to their liking, at a time that best suits their daily routine. We also provide each guest with a litter tray of their preferred style.
Whilst we do not anticipate difficulties at the cattery, you should be reassured to note that as well as being fully insured against public liability and fire, and for the 'care, custody and control' of your cat, we also have excellent isolation facilities should a cat be taken ill, access corridors in the event of an emergency and full height sneeze barriers between all runs; this together with daily cleaning and rigorous disinfection between boarders helps ensure a problem free stay for you and your cats.
Monday to Saturday
9.30am until 10.30am
5pm until 6pm
Sundays, Bank holidays, Christmas Eve and New Year's Eve
9.30am to 10.30am
(closed to the Public on Christmas Day, Boxing Day & New Year's Day)
When planning your visit please allow sufficient time to settle your pet into their accommodation and to complete the required documentation within the opening hour.
Please note that we are closed for the following dates
19th October to 1st November 2022